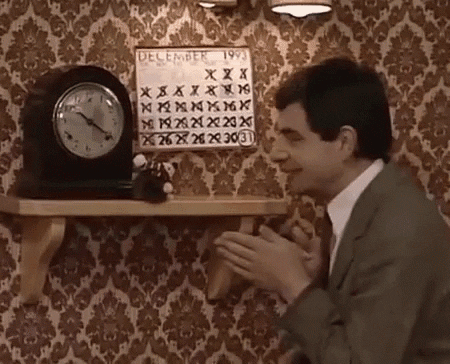 I saw something interesting on Reddit a while back: someone suggested that we have 13 28-day months. That's not all that unusual: in retail they break the year down like that, and ignore things like ends of months and years, and treat January 1 as simply the first day of a new month. Instead of calling them January, February, March etc. we call them period 1, 2, 3 etc. Of course, that would mess with the A to Z Challenge, which is enough trouble when April either begins or ends on a Sunday.
I guess we should just leave the calendar as St. Gregory intended it, and if we want to think of the year as 13 28-days periods, we should keep it to ourselves.
But the notion of the months and years running together is kind of apt for the anniversary we celebrated this past Thursday, the beginning of "two weeks to stop the spread" that's still going on a year hence. I'll spare you any commentary on that, because I promised myself I wouldn't do politics on The Sound of One Hand Typing, other than to say it reminds me of a line a friend of mine said when everything was collapsing into chaos around us: When in danger or in doubt, run in circles, scream and shout. (The chaos I was talking about in the previous sentence had nothing to do with any major catastrophe. We, and by "we" I mean the members of the Invermich Gaelic Society Pipe Band, were trying to coordinate a trip to Minneapolis.)
As for Mary and me, to be honest, the pandemic hasn't made that much difference. Staying home is generally what we do, anyway. We did go to Starbucks a couple of times a week, mostly because it gave us a destination for an excursion, but we haven't been back since the day last March they told us to get out because they were closing for the pandemic. We've been through the drive-thru a few times since then, and we've been out to lunch a couple of times, but for the most part we've been here. When we do decide to get food from an external source, we order it and Mary goes out and picks it up. Mary still does the shopping, though since she has discovered ordering from Whole Foods and having it delivered, she doesn't go quite as often. We order a lot of stuff from Amazon, which bothers me somewhat, but at this stage of our lives, the convenience is more important than making a statement.
I can count on one hand the number of times I've been out of the house since the start of 2021. I have a dentist appointment a week from Monday, and that might be the first time I've been out of the house since sometime in February. It doesn't bother me, honestly. I listen to a lot of music, naturally, and spend most of my waking hours staring at one of the screens in the house (the desktop computer, the laptop computer, my phone, the TV). Why haven't I gone stir-crazy yet? Because it's crazier out there than in here.
---
Stream of Consciousness Saturday is brought to you each week by Linda Hill and this station. Now a word about the Dr. Pepper "Charge! Get Goin' Again" Sweepstakes, where one lucky winner will receive a new Dodge Charger for each day of the week and a year's supply of Dr. Pepper!
I'd enter for the Dr. Pepper…