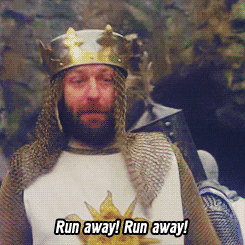 When I first became disabled, I used to talk about running places, even though running was pretty much out of the question. When I'd catch myself saying I was going to run somewhere, say to the bathroom, I'd tell Mary, "you realize that, when I say I'm going to run, I'm using a figure of speech, right?"
There's an old expression, "I'm going to blow this Popsicle stand," which announces my intention to leave, usually within the next minute or so. It's a little more interesting than "I'm going to run," mostly because some people don't know what a "Popsicle" is. I've heard the term "lolly" used for a popsicle, mostly among those of you from Great Britain. Basically, it's fruit juice frozen at the end of a stick. Or in the case of the "official" Popsicle, frozen at the end of two sticks. The way it's made, you can break it in half and give it to two kids. Kind of like you see here in this antique commercial for Popsicles, which were originally made by Borden:
They also talk in the commercial about the Fudgsicle, which was a slab of chocolate ice milk frozen at the end of one stick, because you didn't want to share those. Later, they invented the Dreamsicle (vanilla ice milk covered with orange sherbet on a stick) and the Creamsicle (same as the Dreamsicle, but with vanilla ice cream). All are very tasty, albeit messy on a hot day.
In the old neighborhood (whose slogan was "Man, is this an old neighborhood") we had a sizable Mexican population, and there were several old guys that would sell paletas from these pushcarts that were insulated from the warm weather. You could do two things at once that way: cool off and support local business. A win for everyone! Paletas were like Popsicles without the extra stick, and they sold for half the price.
Now I'm in the mood to run and get a Popsicle…
---
Stream of Consciousness Saturday is brought to you each week by Linda Hill and this station. Now here's Bill Bailey for Old Milwaukee beer.