Time to talk about one of my favorite topics: food. More specifically, dessert food. One of the prompts this week is to "list your top 5 favorite desserts." Frankly, I can go for just about anything sweet, and it shows…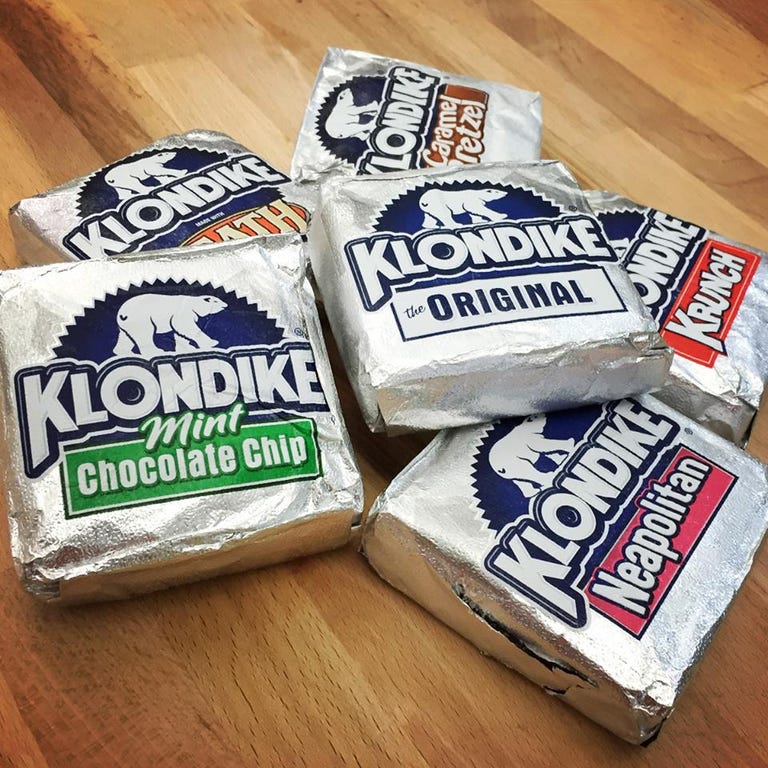 Klondike Bars. Given half a chance, I could binge on Klondike bars. It's like an ice cream bar without the stick. They come in lots of flavors, but my favorite is the Original, a square of vanilla ice cream covered with a double layer of chocolate. Second would probably be the Mint Chocolate Chip, a square of mint chocolate chip ice cream covered with dark chocolate. But really, they're all great.
Fresh fruit. Mary buys fresh fruit whenever she goes to the store. Berries are a particular favorite, especially blueberries (lots of antioxidants) and raspberries, and lately she's been buying bananas. She also buys cut fruit, like cantaloupe, melon, and the ever-popular pineapple. She likes peaches, which I don't, so she brings grapes home when there are good ones. Sometimes she picks up apples and pears, though not so often. When I was more mobile and we had a blender, I would make smoothies, with whey powder, water, a banana, and a couple of frozen strawberries, maybe an ice cube or two. Mmmm….
Pie. I really like pie, especially pie a la mode. Wednesdays at O'Charley's are "free pie days," where you get a free slice of pie with an entree. We've started ordering meals from there and having them delivered, and on Wednesday they offer a whole pie with a family-style meal (two entrees, two family-sized sides). We can get at least two meals out of the family-sized meal, and that includes pie. The pies are made by Baker's Square, which was a favorite of ours when we lived in Chicago. On Thanksgiving and Christmas, we buy a couple of pies, usually a pumpkin for her and a banana (or coconut) cream pie for me. Of course, Mary helps me polish those off….
Cake. It was Mary's birthday on Tuesday, and she picked up a small cake at the grocery store that we split. A real good one, too, with fresh fruit. Lately she's been making pound cakes every couple of weeks, sometimes with fresh fruit, sometimes just a plain one. She makes it in a bundt pan, so we have it for a few days. Very tasty. She's a good baker…
Milk Shakes. I was going to say "ice cream," but I've already talked about Klondike bars and pie a la mode, so I figured I'd talk about milk shakes, even though I usually have one with a meal, rather than as dessert. Of the fast food shakes, my favorite are the Jamocha shakes from Arby's. Zaxby's, which specializes in chicken sandwiches and tenders and is generally in the South, used to have a couple of shakes on their menu, but they decided it took too much time to make them and got rid of them. Before the coronavirus, Mary and I would go to Chick-Fil-A and get ice cream in the afternoon, and I'd have one of their shakes, or sometimes go to Wendy's and I'd have a Frosty.
Of course, anything else (cookies, éclairs, donuts, etc.) fit in there somewhere.
In the near future, Mary and I plan to give all of this up and try to lose weight. It won't be easy, and Covid-19 has been a good excuse not to, but really, it's time. I can always indulge in my vices in my dreams, I guess, if I can quit smoking in them…