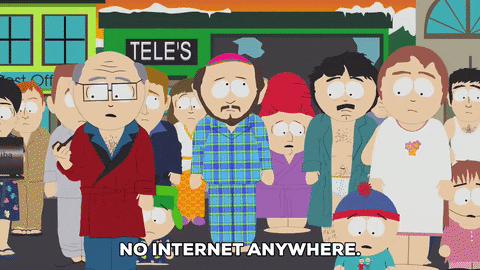 Another blogger, Fandango, runs a weekly blog hop called Fandango's Provocative Question, where he asks a provocative question every week ("I don't mean a question that will cause annoyance or anger. Nor do I mean a question intended to arouse sexual desire or interest. What I do mean is a question that is likely to get you to think, to be creative, and to provoke a response. Hopefully a positive response.") that people can answer. If I ever feel like I need another blog hop in my life, I might participate at some point in the future. Anyway, his question this past week was
If you were forced to chose, would you rather live without the internet or live without air conditioning and heating? Why?
For me, the answer was obvious: I need temperature control badly enough that I would easily give up the Internet, and Mary definitely needs the temperature control more than I do, so I'm pretty sure she'd say the same thing. It might be a different story if, say, we lived in Hawai'i, at which point the need for temperature control was minimal, but moving to a small archipelago in the middle of the Pacific Ocean is a bit drastic, and it's no guarantee that the Internet service would be all that good…
Anyway, the question here is a simple one: would I miss not having instantaneous access to practically all the knowledge in the world? Would I miss all the things that the Internet gives me access to, like Internet radio, Spotify, books on Kindle, Amazon…? I mean, the World Wide Web has only been around for 25 of my 65 years on earth, but in that time we've gotten so used to having it around that it would be a serious adjustment, and particularly during times of being barricaded in the house avoiding cooties, it's been a lifesaver.
Waikiki or Bust!