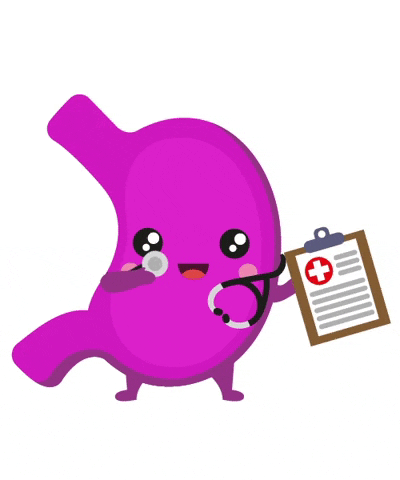 Throughout my adult life, and maybe as far back as in my late teens, my stomach has given me trouble. It runs in the family: Dad had ulcers, and his mother (Grandma Holton) had such trouble that they took out 60% of her stomach.
When I was a junior in college, I started having some digestive issues, and Mom set up an appointment for me with the doctor. He asked a few questions, did some external investigating (listening to my stomach and other stuff down there through a stethoscope), then sent me for an upper and a lower GI series. Both were pretty awful: I had to drink a drink made with barium so they could x-ray it going down and through my digestive tract, and the guy developing the films (who was nicknamed Space Angel, to give you an idea) kept screwing them up, so I had to drink the barium three times before he got it right. (I probably would have had to drink more if I hadn't told the technicians that were taking the x-rays that if I had to drink the stuff one more time, I was going to make him come in and drink with me.)
That was the upper GI; I won't talk about the lower GI other than to say "barium enema"…
A few nights later, I got a call from my mother. "John, your tests have come back, and you have a duodenal ulcer."
"Okay…" She could have said I had fireballs of the Eucharist and it would have made as much sense.
"A duodenal ulcer comes from stress. Now, WHAT'S GIVING YOU STRESS?"
I was taken aback. "Nothing, Mom…"
"Well, there must be something. WHAT IS IT?"
At this point in the conversation, I could have said "this line of questioning," and I was sorely tempted to blame the whole thing on my first two years of college, spent at a school she insisted on, but eventually I was able to convince her that there was nothing I could think of that would cause it.
Anyway, she told me to call the doctor, which I did the next day. I had to quit smoking and stop drinking regular coffee and alcohol, restrict myself to a bland diet, take a 2 mg Valium before eating and an ounce of Mylanta after, and "try to avoid stressful situations."
I got over the ulcer just fine within about three months and started up all my bad habits again, and the stomach distress stayed away until after I graduated and started working full-time.
Linda Hill brings us Stream of Consciousness Saturday over most of these same stations. Now a word about Carling Black Label Beer. Mabel, Black Label!