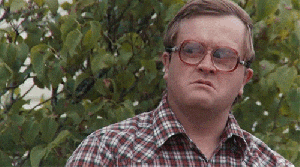 Never once in my life have I uttered the expression "golly gee," so you'll excuse me if I did a little research before at least attempting this little missive. Our friends at The Urban Dictionary tell us it's "used in a satirical statement when somebody is treating you like a child."
Maybe not so much as a child as an idiot, and there are better expressions for that…
Thank you, Captain Obvious!
Duh!
No shit, Batman! (Or "No shit, Sherlock!" if you were born in one of those jurisdictions)
Do you ever make yourself laugh so hard that you forget what you ewre going to say? Somehow seeing the words "No shit, Batman!" sent me into gales of laughter.
Learned something else: "Golly," "gosh," and "gee" are all substitute words for God (or in the case of "gee," Jesus). I think I knew that somehow. "Geez" is another one. My little buddy Blake, who's starring in the story I'm writing and will probably neither finish nor get published (I think I'm doing it mostly for my own amusement) uses "geez" a lot.
The title, by the way, is an expression a friend of mine used to use a lot.
Linda Hill runs Stream of Consciousness Saturday. Now here's Vikki Lawrence for Carnation Instant lowfat milk.