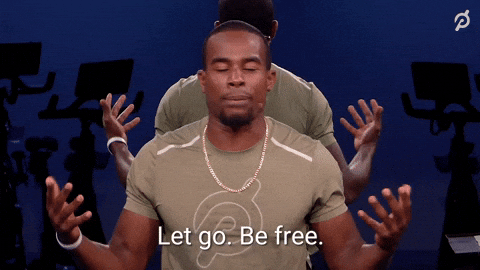 A lesson that I should have learned somewhere along the line is how to let go. Of course, I didn't, and it comes with me like baggage wherever I go. Let go of the things I did years ago that I'm not proud of. Let go of the disappointments that are a direct result of my not having the courage to go after the things that would make me happy. Let go of the times that I didn't let go, and as the guy above says "be free, do you, have fun." That whole thing about "dance like no one's watching" you always hear about? Ye gods, a fate worse than death.
You've no doubt seen the Serenity prayer…
I could never see my way clear and allow myself to do any of these things.
Well, I've bitched about it long enough. That's it. Remember in the Classified ads in the paper, the ones that said "Responsible for my debts and signature only as of (enter date here)" and the person's name and phone number? In the spirit of those ads,
"Responsible for my ill-advised actions, stupid mistakes, failure to take advantage of opportunities, and other acts of boneheadedness only as of January 29, 2022. John C. Holton, 1-800-555-1212."
Well, it's a start…
Linda Hill runs Stream of Consciousness Saturday every week, and during January, also runs Just Jot It January.
Now a word from Air France, "Paris In The Sky."