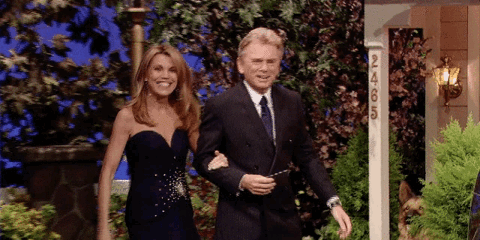 Did you watch Wheel of Fortune this week? The person who wins the regular game gets a chance to spin the "bonus wheel," which has 50 cards on it that specify either dollar amounts ($39,000, $45,000, $50,000 or $100,000) or different model cars. They don't know what prize is on the card until after they try to solve the puzzle, when Pat Sajak opens the card. If they solve the puzzle, they get what's on the card. The big prize is $100,000, so the chance they pull that card is one on 50, or 0.02. Well, this week, the $100,000 was pulled three times in a row. The chance of that happening is 0.02 to the third, or 0.000008. So we saw something happen that only happens 1 out of 125,000 times. That's pretty rare. With 200 shows in a season, they haven't even reached 10,000 shows in the 39 years they've been around. The chances are good that Pat and Vanna won't be doing the show when it reaches 10,000. That's in about another 11 years, by which time Vanna will be a glamorous woman in her mid-70's and Pat will be pushing 90. Who know what could happen by then?
Now, from 1952, Kay Starr and her #1 hit, "Wheel Of Fortune."
Linda runs Stream of Consciousness Saturday. All the cool kids are playing it. Maybe next week you'll play with us? Now a word from Sony Ericsson, the most fun you can have with a phone.