Inept is one of those words that, if you take the prefix off, the remaining word isn't really a word. A klutz is inept, but you don't say that a skilled, graceful person is ept. Call someone "ept" and people look at you funny.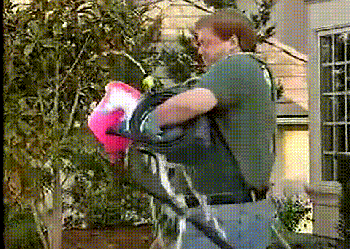 I think it's safe to say that practically all of us, at one time or another, has been especially bad at something. Comically bad, in fact.
When I was in high school, one of the units we had in PE was swimming. As I mentioned the other day, I can't swim, not even to save my life. The first day of class, we were told to dive (or jump) into the deep end of the pool and swim to the other end. When it was my turn, I jumped into the water and began to thrash about until one of the teachers dived in and saved my life. I got about five feet. When they divided us up by swimming ability, they gave each group a name. We were the Anchors. I don't feel too badly: most of the football guys were Anchors as well. Made a couple of big friends that year.
I also inherited my father's ability to do simple home repair. Dad didn't know which end of a screwdriver to use, and I was in the same boat. I had no business buying a house, because I was totally inept at just about everything. I'm also a terrible painter. When we bought the house, Mary made two rules: no power tools, and no paint.
Ineptitude is not just physical. Sometimes you get up in front of a group to speak, and you immediately freeze. That's not that unusual: they say that speaking to a group is one of the most common phobias, right after standing in a train station stark naked. There's a group called Toastmasters that helps people with their public speaking. One of the things they tell you is to picture the people you're speaking to in their underwear. That would leave me terrified.
Feel free to share in the comments things at which you are inept…