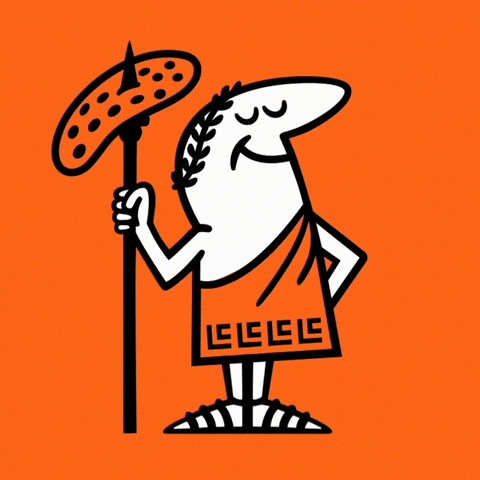 Linda's comments from yesterday say "Today's prompt is a repeat from six and a half years ago. I bet you don't remember what your post was about if you were around back then!" Well, it was November 21, 2015, in fact, and yes, I DO remember what it was about, and as for her instruction, "And if you do? Sorry. Come up with something else. Haha!" I'm going to repeat it anyway. Haha! But you know me: I'll add to it, subtract from it, and have all kinds of fun with it.
Before I begin, the little fellow at the top of the page is the corporate mascot of Little Caesar's, a national pizza chain here in the US (I think it's called Pizza! Pizza! in Canada). Originally, you got two square pizzas for the price of one. The chain was based in Detroit, which is also where another national pizza chain, Domino's, is based. The owner of Domino's at one time owned the Major League Baseball Detroit Tigers, and when he was divesting himself of all his assets (to build churches in Africa or South America, I can't remember which), he sold the Tigers to the owner of Little Caesar's. I thought he was going to rename them the Detroit Tigers! Tigers! and start scoring twice as many runs, but that would have been too easy. In fact, they had ceased operations (at least in this part of the country) for some time and, when they returned, you only got one pizza for the price of one. They had some hilarious commercials, including this one…
Best part of that commercial, for me, is the old guy with his pants pulled up to his nipples, going "hey!" about halfway through. Breaks me up every time.
Now, on to our regularly scheduled rerun…
Remember Certs?
Anyone know exactly what Retsyn was? It was some sort of breath freshener. Wikipedia says it's a mix of copper gluconate, partially hydrogenated cottonseed oil, and flavor, and that the green flecks in the mint come from the copper. I had a friend who used to carry these with him everywhere when we were in grammar and high school. They tasted pretty good, but I don't think they did a very good job of keeping breath fresh. I had another friend who used to chew whole cloves for bad breath. Not as bad as it sounds. Like Clove gum, flavored with cloves. But, back to Certs… I haven't seen them around recently, but then I haven't been going to the store with Mary.
It drives me crazy when people misuse "to" for "too," and vice versa. You get a lot of that on Facebook, and sometimes from people that you know are reasonably well-educated. Mary, who reads novels all the time, can't believe the number of writers – writers! – who get it wrong. I'm sure it keeps the editors busy.
From 1973, Mocedades, "Eres Tú," sung by Amaya Uranga. This finished second in the 1973 Eurovision Song Contest, four points behind the local favorite, "Tu Te Reconnaîtras" by Luxembourg's Anne-Marie David. I guess we can add "tu" or "tú" to "to/two/too"…
The ever-indulgent Linda brings us Stream of Consciousness Saturday each week. Now a word about Wrigley's Doublemint gum!