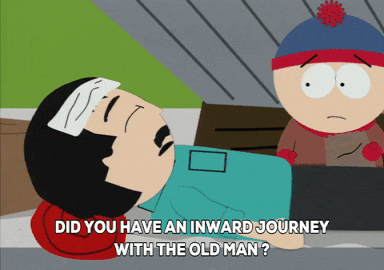 Look inward. Anyone ever give you that advice? Ever wonder what they're telling you?
You're always faced with life decisions: whether to stay with your spouse or partner or leave them, whether to get up and go to work or stay home and look for something better to do, whether you're living where you want to be or you should move, whether your career is all you expected or whether it's time to try something new, whether you're happy with yourself physically or you need to change your diet and exercise habits, whether life with the intoxicant of your choice is the life you want to lead or that it's time to face life substance-free. If you ask the people around you what you should do, they'll give you their opinion.
And that's all it is, an opinion. Whether you like their opinion or not, you asked for it and they gave it. Ultimately, the choice you make won't (or shouldn't) be what someone opines. It might be what you end up doing, but it won't be because they told you "you should do x." It will be because you evaluated their opinion(s) against what you already know about yourself and what you want to get out of it. They can't answer that, because they aren't you. Only you can make that choice, that decision.
When you think about it, you can save yourself a lot of time and aggravation if you just start out looking inward in the first place. You already know the answers to those questions. You know you should stay with your spouse. You know when it's time to change jobs or careers, etc. When people know what you've decided, they'll offer their opinions on it, at which point you can say, "Thank you, I'll take that under advisement," and then ignore them.