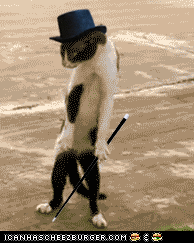 You don't see men wearing hats these days, at least not in the US. You see lots of baseball caps during the spring and summer, and a lot of watch caps (or beanies or toques or whatever you call them) in the fall and winter, but don't see many men wearing fedoras or Homburgs anymore, except in certain communities.
They did another the next year…
And by no means are they the only ones who use hats as part of their devotion to their Supreme Being(s).
That's all…
Linda, whose latest book, Rocked: A Romantic Comedy, is doing very well at Amazon and wherever fine eBooks are sold (and words can't expressed how happy we are for her and how proud we are of her), runs Stream of Consciousness Saturday. Now here's a word about the RCA Victor Portable Television.