Melanie has questions, I have fun answering them. Heh heh heh…
When you were a kid, did you eat the crusts on your sandwich or not? I sure did. In fact, I'd make sandwiches out of the heels (the ends of the loaf), the part that most people throw away. As Charlie Brown used to say in one of the many commercials for Butternut Bread (it might have had a different name where you are, such as Weber's or Mrs. Karl's; the bag had like a gingham print on it), "I like crusts. They make your hair curly." Sadly, I was unable to find that particular commercial, so here's another featuring Charlie Brown, Peppermint Patty, and Snoopy as "The Prince of Sandwiches."
Are you a fan of musicals—why or why not? Love them! Some of the greatest music of all time was composed for musicals. Some examples: Cole Porter, "Anything Goes," from the 1934 show of the same name.
Jerome Kern and Dorothy Fields, "The Way You Look Tonight," from 1936's Swing Time.
Harold Arlen and Johnny Mercer, "One More For The Road," from 1943's The Sky's The Limit.
And those are just three examples of literally thousands of songs composed for musicals. It's some of the greatest music of all time.
Is it difficult to do what you did? I was a trainer and a technical person during my career. Neither one is especially difficult. Both require being quick on your feet (i.e. being able to formulate an answer as someone is asking a question), and both require the patience of Job at times. Knowing the answer is less important than knowing where to find the answer. As far as leraning the material or developing the skill, you need to take the approach of eating an elephant: one bite at a time.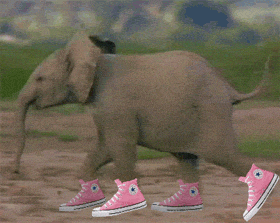 What's the best concert you've ever been to? Stephane Grappelli at Massey Hall in Toronto. Grappelli was a jazz violinist who played with Django Reinhardt in the '30's and '40's, which you probably knew already. He was pretty old and feeble when he stepped onto the stage, but when he started, it was Paris in the 1930's again. He finished the show with this…
Didn't miss a note…
Sorry for the dearth of GIF's. Let's see what I can do to make it up…