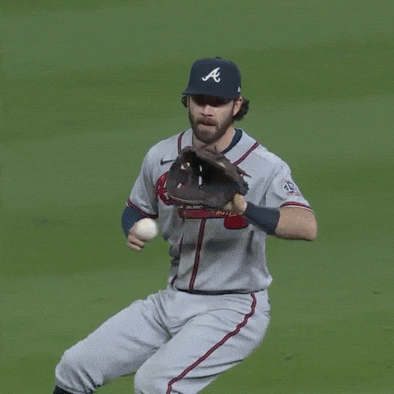 Kat, bless her, made one of this week's prompts "Write a blog post inspired by the word: baseball."
The 2022 Major League Baseball season is drawing to a close, and while I haven't followed it as much as in years past, I do know that our Atlanta Braves are in second place in the National League East, trailing the New York Mets by two games. They are currently #1 in the Wild Card standings, so chances are good that they'll have a shot as the Wild Card team. I haven't followed my favorite American League team, the Chicago White Sox, as closely this season; right now they're tied for second place with the Minnesota Twins in the American League Central, four games behind the newly-christened Cleveland Guardians, and also four games back in the Wild Card standings. If they make a good push, they might also make the playoffs.
About that "newly-christened" Cleveland team: they had been the Cleveland Indians for as long as I can remember (they had gone through a number of name changes in the late 19th and early 20th centuries, called the Blues, the Naps (after Napoleon Lajoie, one of their star players), the Bronchos, and the Lake Shores), but at the end of last year said they were abandoning the now politically-incorrect name "Indians" (it honored Louis Sockalexis, a Native American player who was with the team between 1894 and 1896) for the less-inflammatory Guardians. It's just a matter of time before the Braves, who have had a good relationship with the Native Americans living in the Southeast (chiefly the Cherokee), will end up having to change their name as well. They could go back to one of the names they used in the past, including the Bees, the Rustlers, the Doves, the Red Caps, and my personal favorite, the Beaneaters, but I think they'll opt to go with a new name, perhaps one of the names of the hockey teams that have left here (the Flames, the Knights, or the Thrashers). My idea is the Hammers, after Hammerin' Hank Aaron, and also because Atlanta is the home of Home Depot, which I'm sure sells lots of hammers.
A week from today, the limit on players on the team (25) goes away, and teams can expand their rosters to as many as 40 players, calling up players from their minor league affiliates. Two rookie players have already made their mark here, outfielder Michael Harris II and infielder Vaughn Grissom, so who knows who else they'll call up? Being in the middle of a pennant chase, any further callups might be limited and not get a lot of playing time. But you never know.