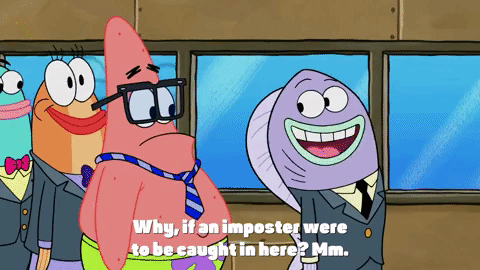 I'm sure most of you know all about impostor syndrome, which Wikipedia tells us
is a psychological occurrence in which an individual doubts their skills, talents, or accomplishments and has a persistent internalized fear of being exposed as a fraud. Despite external evidence of their competence, those experiencing this phenomenon do not believe they deserve their success or luck. They may incorrectly attribute it to the Matthew effect, or they may think that they are deceiving others because they feel as if they are not as intelligent as they outwardly portray themselves to be. Impostor syndrome can stem from and result in strained personal relationships and can hinder individuals from achieving their full potential in their fields of interest.
In other words, the fear of being outed as a fake, a phony, a bullshitter, whatever.
I've mentioned before how I think my unwillingness to write a résumé kept me from leaving a job that I had held for 20 years, even though there were reasons almost every year of that period of time that I really should have. A big part of my reluctance to write a résumé was the pangs of guilt I would have when I would put down when I said I had done something. I might very well have done the thing, and have the documentation to prove it, but I would start questioning just how well I had done it.
It was as though one of the Sisters of the Holy Child Jesus had imbedded herself in my brain, and every time I would write down an achievment, she would say "Now, Mr. Holton, how are you going to prove that you had done that?" It's that whole "Permanent Record" thing, that somehow, locked in a file cabinet somewhere (probably in the fallout shelter under Loyola Avenue) was the real story of Holton, John C., DOB 3/25/1956 which had somehow continued to update itself after all these years and which anyone but me could see and get the real story on who I was, warts and all, and what I had really done.
I figured out long after I was forced into retirement that everyone pads their résumé to a greater or lesser extent, and that it's quite common for someone to say they can do something on their résumé and in their interviews while simultaneously teaching themselves how to do that thing in their off hours.
Duh…