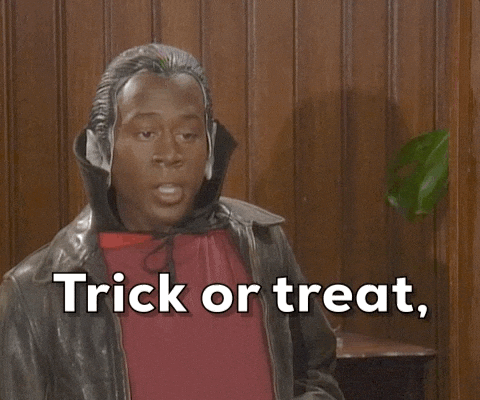 I'll be the first person to tell you that I'm not a huge fan of Halloween, so when I saw the assignment for today, "All Hallow's Eve: put your spin on Halloween inspired song picks using the History Channel website to learn about this popular holiday," I was at a total loss for what to do.
I looked at The History Channel website and found a page on trick-or-treating. In one place, they say that the custom of trick-or-treat is slowly dying out in favor of parties. I know Mary and I get very few trick-or-treaters, and being the sort of Halloween Scrooges that we are, we don't turn on the porch light or answer the door. There aren't a lot of kids in the neighborhood, so maybe that's why, but anyway…
Still having no idea what to do, I came up with a way to celebrate: a musical acrostic on trick-or-treat.
Temptation Eyes – The Grassroots
Rikki Don't Lose That Number – Steely Dan
I Put A Spell On You – Screamin' Jay Hawkins
California Nights – Lesley Gore
Kiss Me Goodbye – Petula Clark
Only The Lonely – Roy Orbison
Rain – The Beatles
Time Is Tight – Booker T. & The MG's
Roxanne – The Police
Easy – The Commodores
Achy Breaky Heart – Billy Ray Cyrus
Take Five – The Dave Brubeck Quartet
And that's Monday's Music Moves Me for October 31, 2022.
Monday's Music Moves Me is sponsored by Cathy, Alana, and Stacy, so be sure and visit them, where you can also find the Linky for the other participants.