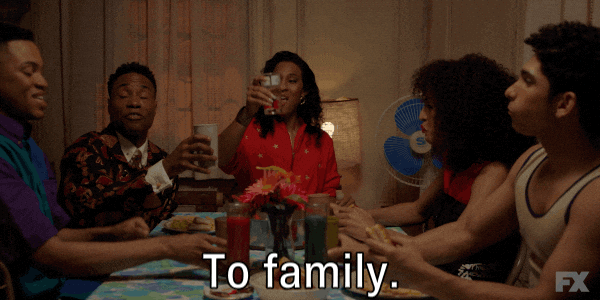 J-Dub provided today's prompt, family.
I come from a big family. On Mom's side, I have an uncle, five aunts, and 18 cousins. I have three brothers, five nephews, one niece, and one great-niece. On Dad's side, I have three uncles and 9 cousins. I could keep going back through the generations and it'd make your head spin. Mine's spinning just thinking about it.
In contrast, Mary comes from a very small family. She's an only child. Her mother had two brothers, both of whom had no kids. Her father has a brother, who had two kids, who between them had five kids. All the older members of her family came from Lithuania, and there are no records.
Around Christmastime the year before we were married, Mary and a friend of hers decided to come out and visit. It so happened that Mom was having a party with her sisters and older women in the family that same night. When Tex picked me up from work, he said that two girls were waiting for me at home. I came in and Mary was very happy to see me. She wasn't used to the "cast of thousands" that was second nature to me. The oldest member of the family, a woman well into her 80's if not 90's, tapped me on the shoulder and gave a smile and wink. She could tell that Mary and I would make a great couple. And she was right.
One of my cousins on Mom's side married a girl whose brother married a cousin on Dad's side. Actually, I'm surprised that I didn't have a cousin from each side of the family get married. That would have been really cool…
At our rehearsal, one of Mary's bridesmaids saw my brother Jim, with whom she had a class or two. She went up to him and said, "Jim! How long have you know John?" In classic fashion, he said "too long, he's my brother."
I think it's time I get my book of family stories together…