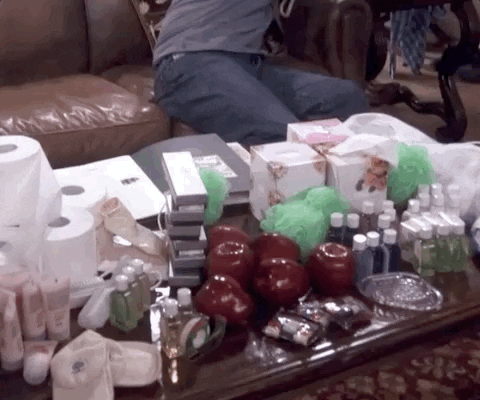 Kim brings us today's JusJoJan prompt, amenities.
I stayed in a lot of Marriott hotels when I was traveling, including Courtyards and Residence Inns. All the rooms had a bed, a dresser, a loveseat, a coffee table, a bathroom, a desk and chair, a nightstand (sometimes two), a phone (sometimes two), a coffeepot with pouches of regular and decaf coffee, coffee mugs, glasses, an ice bucket (for the ice machine down the hall), an iron and ironing board, towels, soap, shampoo, conditioner, hand lotion, an extra roll of toilet paper, tissues, bed linens, pillows, pads of paper and pens, a TV, a clock radio (screwed to one of the nightstands), phone books, copies of the Bible, the Book Of Mormon (the Marriotts are members of The Church of Jesus Christ of Latter-Day Saints), and a biography of J. Willard Marriott tucked away in one of the drawers, and a padded folder containing stationery, a directory of Marriott Hotels worldwide, a copy of the room service menu, and a listing of all the services the hotel provides. Many of them had a "business center" (a PC with a printer), an exercise room, and a pool. Every floor had a Coke machine and an ice machine, and off the lobby there might be snack machines, or there might be a "gift shop" that sold magazines, candy, shave cream, razors, toothpaste, toothbrushes, aspirin, acetaminophen, ibuprofen, pantyhose etc. They gave you a copy of USA Today every morning (supposedly, they charged you a quarter for the newspaper, and you could opt out and save the quarter, but no one ever did that). You might get a subset of the forgoing list at other hotels, but they might serve a "free" continental breakfast (donuts, coffee, cereal, sometimes even waffles), a bookcase with various books that had been left behind that you could borrow and return or leave in your room (or walk off with them), a restaurant and bar (I know all about those), a washer and dryer, and Lord knows what else.
Marriott left enough pens in your room that they almost expected you to take them. I swear, I didn't buy a pen for fifteen years.
Everything I listed above is an amenity. Some are basics that you would expect (bed, sheets, pillows, bathroom, towels, toilet paper) but the others are either there for you to use or, in the case of pens, shampoo, soap, conditioner etc. things that you can take with you, i. e. free stuff. It's not really free, of course; "included in the cost" probably describes it better. I've written two posts about free stuff here and here, if you're interested…