To "throw in the towel" (as Susan points out here) comes from the world of boxing, when either the boxer or his cornerman decides that he's had enough and tosses the towel in the ring to let the referee know that's it. It's his way of saying "No más," as Roberto Durán said when he was fighting "Sugar Ray" Leonard in 1980. We would look at it as saying "I give up," "I quit," or "I've had enough."
All this talk about boxing makes me think of Howard Cosell, sports announcer for ABC from the mid-'50's until the mid-'80's, when he was fired after his book, I Never Played The Game, was published. Howard once said "I've been called arrogant, pompous, obnoxious, vain, cruel, verbose, a showoff. And, of course, I am." Yes, he was all those things, but we liked him anyway. He was one of my birthday twins…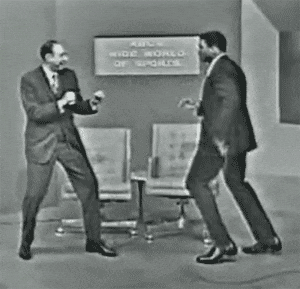 Linda runs Stream of Consciousness Saturday, and during Jasnuary also runs Just Jot It January.
Now a word about pastries and baked goods, baked with care by County Fair.