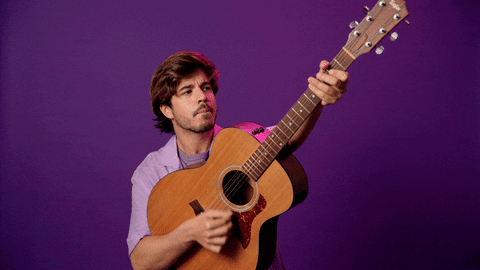 I didn't learn to play the guitar until I stopped taking lessons. I took lessons for over a year, and that taught me more about not playing the guitar than about how to play.
I had a hand-me-down guitar from my cousin, and my friend Willy had a ukulele. Neither of us knew what the hell we were doing, but we'd get together once or twice a week and bang on our instruments, make lots of noise, and sing goofy songs. I talked about it here.
Anyway, we were driving our moms crazy, so they decided to sign us up for guitar lessons. Willy got a guitar, and the two of us were off to the Marion Cole School of Dance and Music to take lessons from a guy named Stan. Stan told us both to get Mel Bay's Modern Guitar Method and a thin guitar pick, and come back the next week.
After a couple of weeks of ol' Mel, I wondered what the hell I was learning. I knew other people who played the guitar, and they didn't do anything like I was learning how to do. My Aunt Bitsy would come to our house, grab my guitar, and play all kinds of songs, like "Edelweiss," "Green Back Dollar," "Yellow Bird," and "Sloop John B". Meanwhile, I was struggling to learn the notes in the key of C on all the strings. My mother told me that I was learning real music, music that I had to read off the staff and all that. Screw that noise, I thought to myself, I want to play the guitar, not read notes off the staff.
Willy did fine. He took to it like a duck to water, and soon was on to Mel Bay's Modern Guitar Method, Volume 2. Meanwhile, I was still dragging myself through "The Volga Boatman" and the ever-popular "Etude #2." I really hated Mel Bay by this point, and swore, if I ever met him, I would knee him right in the groin.
Stan wasn't much better. Stan was a real jerk to start with, and I probably made matters worse by not practicing. Oh, I was playing the guitar just fine by then; I just wasn't playing what he assigned me to play. They actually threatened to call my Mom. I begged them not to, then went home and told Mom I hated the lessons and Stan was a jerk and it was a real long walk to the studio and that I wanted out. She was amenable to that, and I called the Marion Cole School of Dance and Music and told them to take their guitar lessons and shove them where the sun didn't shine. Well, I was a little nicer than that…
I considered burning Mel Bay's Modern Guitar Method, but settled for throwing it in the garbage. Thus liberated, I went on to play the guitar and actually have fun doing it. I was doing what I should have done in the first place…