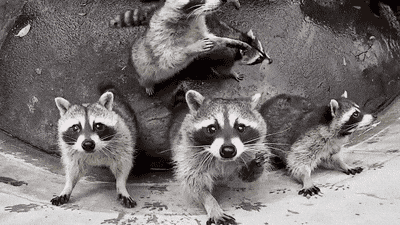 I'm sure I've told the story about when I was in high school and we had a family of raccoons breaking into our garbage every night. Turns out the lady next door was feeding them, and they went out of town and forgot to make arrangements to feed them. The next time they went out of town, the lady gave us bags of garbage they would eat and asked us to feed them. We were happy to do it because it was nasty having top clean up after them.
When we moved to Atlanta, we had stairs leading up to the back deck, and occasionally a neighborhood cat named Blackie would come up and look in the back door, wanting food. We would fill a bowl and leave it out there for him. Then this old orange tabby that we called Ollie (he looked like our cat Larry, so we called him Outside Larry, Ollie for short) was coming up and eating (and chasing Blackie off). Ollie must have been feral, because whenever we'd come out to fill the bowl or just hang out on the deck, he'd run down the stairs and look up at us like he was scared. I knew we were getting somewhere with him when he would sit on the first step down while we sat on the deck. Just when we thought he would let us pet him, he disappeared.
He was more or less replaced by a gray tabby with a white spot on her mouth that I named Mouthwash, because of the white spot on her mouth, and the fact that she looked a little green in the right light, and the fact that I'm out of my tiny little mind. She was obviously someone else's cat, although she spent a lot of time near our house, and on cold nigts we'd let her in and she'd sleep next to my legs in bed. We fed her outside, too. One night we heard all this commotion out on the deck, flipped on the light, and saw that it was a very large raccoon, calmly eating the cat food. Mouthwash was sitting on the bench near her, waiting her turn.
About a week or so later, the raccoon returned with her four kits and stood by watching them eat. We had one of those double bowls out there, and they positioned themselves with two on each side. It was really cute: you'd see a head, a tail, another head, and another tail. Mouthwash was on the deck with them, and she just sat patiently, waiting her turn.
One night, we looked out there, and there was a possum out there eating….
Many years later, after we had that deck torn down and a new one put up sans stairs, we looked out one rainy morning and saw a huge hawk sitting on the railing. We knew it lived in the tree behind our house, so she must have been grounded until the rain stopped. We often see her flying high overhead, and occasionally watch her carry off one of the squirrels in the neighborhood…
One afternoon, Mary and I were driving near Sweat Mountain and saw a turkey buzzard cleaning up some road kill on the sidewalk. There's a flock of them that live up on the mountain, and they do a fine job of keeping the streets clean.
Linda is your host for Stream of Consciousness Saturday. Now a word about Montclair cigarettes. Just enough in every puff makes every puff a pleasure!