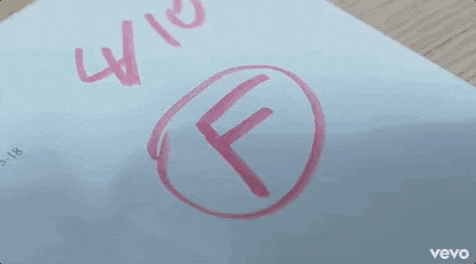 I never actually flunked a class. I had one incident in college, which I've already discussed here, where I came close, but I'm sure the professor took pity on me.
The other time I almost flunked was in high school with Geometry.
I transferred to a different high school in sophomore year. The summer before starting there, I took a bunch of placement tests, then met with the transfer counselor to register for school.
My new school had a level system, where level 4 was the top level (there was a 5 level for Advanced Placement classes) and level 1 was for those who had learning disabilites. Level 3 was for kids who were fairly bright but not smart enough for level 4. I had always been in the top classes, so I assumed that I would be placed in level 4 in everything. So, it was a shock to my ego when I learned that I would be placed in level 3 classes, and I was livid when the counselor told me that he was recommending that I be placed in level 3 Geometry. I was fantastic in Algebra, even mastering trigonometry and matrices and determinants when I took Algebra 2 as a freshman. Plus, I had heard all my life that I was some kind of a math genius and just assumed that I'd be placed in level 4. I argued my case with the guy, and finally he agreed to put me in level 4.
After a week or so of level 4 Geometry, I realized that the counselor was probably right, that I probably should have taken level 3, and I even thought that maybe I should slip back to level 2. But, I stayed with it, and was pulling a solid C by the end of the first semester. At the end of the semester, we were gien the option of continuing with level 4 or moving to a more advanced level 4. Not content to settle for level 4, I asked to be moved to the more advanced class, and the teacher (who was also the department head and with whom I had butted heads on more than one occasion) was more than happy to let me go.
That was a huge mistake.
I liked my new teacher a whole lot more, but the class moved at an even more accelerated pace and I was totally lost. By the time I got the hang of one topic, the class had already completed another topic and was two topics ahead. I was floundering. The teacher did her best to help me get through, even gave me a B on a test on which I probably deserved a C, but in the end, I ended up with a low D, barely above flunking. (Thank heaven for the gift B.)
I learned my lesson: I really should have gone with level 3…